Fairfax City Sewer Line Inspections Begin Next Week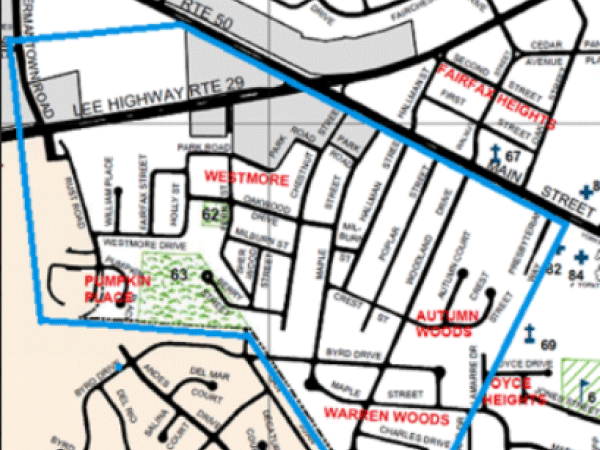 FAIRFAX CITY, VA -- The City will be performing a condition inspection of sanitary sewer lines and the associated manholes in the community. The City of Fairfax, Department of Public Works has contracted with RJN Group, Inc. to provide condition inspection services in the area marked in the image above. The work will start on or about Thursday, July 7 and will take approximately three weeks to complete.
It is not necessary for you to be at your home or business during the inspection. There will be no need for the inspectors to enter your home or business at any time. There will be no interruption to any utility services.
Inspectors may need to walk on or near your property to gain access to sanitary sewers and easements and will make attempts to notify persons at the property before doing so. No heavy equipment or excavations are required. Occasionally manhole lids may be covered by brush or shallow sediment – inspectors may remove these minor obstructions to access manholes. Some of the manholes are in the roadway and will require minor traffic control and flagmen.
IPS was started with a simple goal ,to provide our Chinese customers ,who were engaded in water monitoring and/or municipal sewer line inspection and rehabilitation ,with affordable devices.
In 2009,we began our business with self-made multi-direction endoscope.But it was not very sucessful at that time.
In 2013,we came back with SINGA crawlers,which was equipped with powerful illumination to capture and record pipe defects.
In2015,we added explosion-proof and motor-driven cable drum to our carriage.And setted out to develop our own UV curing,3D sonar/laser system.
Thanks to continuous efforts in customers' oriented technical innovations and excellent service ,IPS has witnessed a series of huge success.Now we are the leading manufacturer of pipeline CCTV inspection equipment in China ,and we are ready to lead international pipe inspection&rehabilitation industry in the future.

Address:

1101,2th Building,silver star intelligent community,Guanguang Road 1301-72,Dabuxiang community,Guanlan,Longhua District,Shenzhen, China