Sewage pipe burst in west Watford flats 'could have been avoided'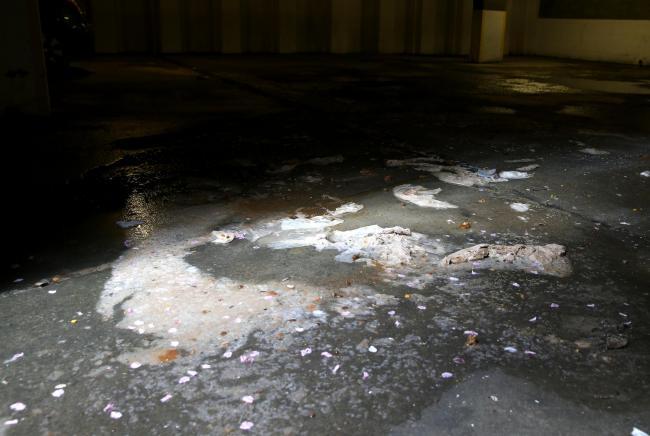 Tenants at a block of flats were left holding their noses for days after a sewage pipe burst and flooded their car park.
People living at Verdana Court in Whippendell Road say the problem could have been avoided if a leaking pipe had been fixed sooner.
Residents found their cars sitting in sewage on Thursday May 12 after a pipe disintegrated in the underground car park of the block of 11 flats.
They had to move their vehicles out of the car park and clean them, while the smell affected the whole block.
The pipe was not fixed until the following Monday.
Tenants said the pipe had been leaking for a week before bursting and they had contacted Hightown Housing Association, which manages the flats, but nothing had been done.
Mohammed Abbas, 30, who lives in Verdana Court with his wife and two kids, said: "The whole block called them. If they had come when the leak began the burst might have been avoided.
"We could smell it from our apartment, we shut the windows and we could still smell it. It is disgusting, especially for those who have children."
Hightown confirmed it had been informed of the leak on Saturday May 7 and had contacted the car park freeholder, who did not arrange for a contractor to repair the leak during the following week.
After the burst, Hightown decided to step in and arrange for its own contractors to attend.
Residents said on Wednesday that, although the burst had been fixed, they could still smell the sewage.
A spokesman for the housing association said: "We are sorry that our residents had to suffer this experience, but we were able to step in as soon as we realised there was a problem.
"Hightown's contractors were arranged to stop the flow the same day and an external clean was carried out.
"It's been inspected by the council's environmental health team, who have confirmed they are happy with the situation."
IPS was started with a simple goal ,to provide our Chinese customers ,who were engaded in water monitoring and/or municipal sewer line inspection and rehabilitation ,with affordable devices.
In 2009,we began our business with self-made multi-direction endoscope.But it was not very sucessful at that time.
In 2013,we came back with SINGA crawlers,which was equipped with powerful illumination to capture and record pipe defects.
In2015,we added explosion-proof and motor-driven cable drum to our carriage.And setted out to develop our own UV curing,3D sonar/laser system.
Thanks to continuous efforts in customers' oriented technical innovations and excellent service ,IPS has witnessed a series of huge success.Now we are the leading manufacturer of pipeline CCTV inspection equipment in China ,and we are ready to lead international pipe inspection&rehabilitation industry in the future.

Address:

1101,2th Building,silver star intelligent community,Guanguang Road 1301-72,Dabuxiang community,Guanlan,Longhua District,Shenzhen, China