Raw sewage overflows near north side Kalamazoo strip club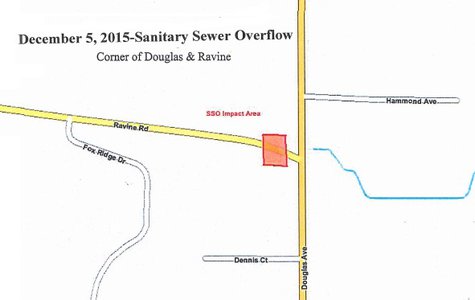 The red square on the map represents the area impacted by the sewer overflow. (graphic provided by City of Kalamazoo)
KALAMAZOO (WKZO-AM) -- A sewer overflow near the Deja Vu nightclub on Ravine Road near Douglas Avenue Saturday spilled 400 gallons of raw sewage into the street, which spewed out of a manhole.
City crews blame a blockage in the line for the backup that resulted in the spill.
It was first reported at about 9:21 p.m. Saturday, and the blockage was cleared about an hour later by the city's public services staff.
Officials with the city say the area has been cleaned and everything is back to normal.
IPS offers professional tools to inspect and repair your city
sewer lines
.
IPS was started with a simple goal ,to provide our Chinese customers ,who were engaded in water monitoring and/or municipal sewer line inspection and rehabilitation ,with affordable devices.
In 2009,we began our business with self-made multi-direction endoscope.But it was not very sucessful at that time.
In 2013,we came back with SINGA crawlers,which was equipped with powerful illumination to capture and record pipe defects.
In2015,we added explosion-proof and motor-driven cable drum to our carriage.And setted out to develop our own UV curing,3D sonar/laser system.
Thanks to continuous efforts in customers' oriented technical innovations and excellent service ,IPS has witnessed a series of huge success.Now we are the leading manufacturer of pipeline CCTV inspection equipment in China ,and we are ready to lead international pipe inspection&rehabilitation industry in the future.

Address:

1101,2th Building,silver star intelligent community,Guanguang Road 1301-72,Dabuxiang community,Guanlan,Longhua District,Shenzhen, China