Officials laud long-awaited sewer improvement project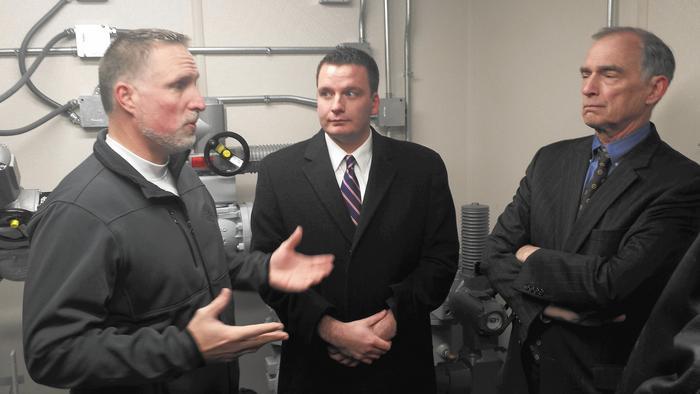 It was a project almost 20 years in the making and Monday officials across a number of different agencies came together to mark the completion of the long-awaited $1.3 million Hermits Lake sewer improvements.
It came to fruition through a partnership between the county commissioners and the city of Crown Point and involved the Lake County Surveyor's office and Army Corps of Engineers.
"We just moved into the 21st century," said Lake County Commissioner Gerry Scheub, D-Crown Point, who has been pushing for the project for years.
He lauded Crown Point Mayor David Uran for paving the way to enable the treatment plant to connect to the city's municipal wastewater treatment facility after work to upgrade the failing system was complete.
"Uran did something nobody else would do, he welcomed people into the community to better their lives," Scheub said. "This is a landmark day."
Uran said the partnership between the county and city was in the best interest of Hermits Lake residents and Crown Point residents as a whole. He said allowing the 206 homes to connect to the city's sewer system makes the subdivision safer, helps the environment and improves the property value of residents throughout the city.
"This is about property, about property values for people and their homes and quality of life," Uran said.
U.S. Rep. Pete Visclosky, D-Merrillville, said Scheub has been dogged in his efforts to get the project done.
"The reason I'm here today is to get Commissioner Scheub off my back," Visclosky joked.
His office secured the $1.075 million federal funding that enabled the project to move forward. The county provided approximately $350,000 in matching funds to secure the grant.
"This is a good investment of that money bringing those federal dollars sent to Washington back to the community," Visclosky said.
Surveyor Bill Emerson Jr. said the project was one of the first things Scheub spoke to him about when he was put in office. Emerson said the commissioner introduced himself and asked about Hermits Lake in the same breath. He said the cooperation across a number of agencies is what made the project finally happen.
"None of us could have done it alone," Emerson said.
The project included construction of a new regional pumping station and approximately 3,000 linear feet of a new sanitary sewer force main along White Oak Avenue to connect he area sanitary sewer system to the city of Crown Point's collection system.
Now that the tie in is complete residents will see their sanitary sewer rates increase from $69.71 per month to $86, according to the county ordinance establishing the rates. Residents were responsible for a $1,920 tap-in fee and were notified by mail in March of the project, the time frame and the expected costs. The city waived its 25 percent out-of-city surcharge for the tap-in fees.
To assist residents who could not pay for the tap-in up front, the county is offering interest-free repaying for $32 a month for five years.
Under the agreement, Lake County has become a customer of the city's municipal sewer utility and will make its payment directly to Crown Point. Residents will see no change in who they are billed by. Lake County will continue to bill individual residents for their sewer service.
Carrie Napoleon is a freelance reporter for the Post-Tribune.
IPS was started with a simple goal ,to provide our Chinese customers ,who were engaded in water monitoring and/or municipal sewer line inspection and rehabilitation ,with affordable devices.
In 2009,we began our business with self-made multi-direction endoscope.But it was not very sucessful at that time.
In 2013,we came back with SINGA crawlers,which was equipped with powerful illumination to capture and record pipe defects.
In2015,we added explosion-proof and motor-driven cable drum to our carriage.And setted out to develop our own UV curing,3D sonar/laser system.
Thanks to continuous efforts in customers' oriented technical innovations and excellent service ,IPS has witnessed a series of huge success.Now we are the leading manufacturer of pipeline CCTV inspection equipment in China ,and we are ready to lead international pipe inspection&rehabilitation industry in the future.

Address:

1101,2th Building,silver star intelligent community,Guanguang Road 1301-72,Dabuxiang community,Guanlan,Longhua District,Shenzhen, China