Can you share me some info of your newly developped 3D laser profiler?


S300 - Pipeline robotics crawler with 3D laser profiler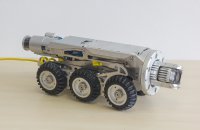 Before we talk about our 3d laser profiler,we should thank IBAK for keeping their laser stick technical as a secret for so long and so well, so we can finally develop something for our own. As shown below is our SINGA S300 Crawler systems integrated 3D laser scanner.The scanner can work standalone or mounted on a carriage,push rod or even manhole camera. And our magic is that, the laser and video inspection can be activated as the same time.That means you can record videos and build pipeline 3D model,map the inspection direction by only one launch. The leads too the double of your productivity.
IPS was started with a simple goal ,to provide our Chinese customers ,who were engaded in water monitoring and/or municipal sewer line inspection and rehabilitation ,with affordable devices.
In 2009,we began our business with self-made multi-direction endoscope.But it was not very sucessful at that time.
In 2013,we came back with SINGA crawlers,which was equipped with powerful illumination to capture and record pipe defects.
In2015,we added explosion-proof and motor-driven cable drum to our carriage.And setted out to develop our own UV curing,3D sonar/laser system.
Thanks to continuous efforts in customers' oriented technical innovations and excellent service ,IPS has witnessed a series of huge success.Now we are the leading manufacturer of pipeline CCTV inspection equipment in China ,and we are ready to lead international pipe inspection&rehabilitation industry in the future. Name:

Fannie Fu
Tel:

86-15989416265
WhatsApp:
Skype:
Address:

1101,2th Building,silver star intelligent community,Guanguang Road 1301-72,Dabuxiang community,Guanlan,Longhua District,Shenzhen